Positioneren
Positioning matrix for organizations and brands
Our positioning matrix helps organizations optimize their marketing efforts and focus their strategy. In earlier posts we discussed both axes of the matrix (identity and perception) so in this post we focus on the positioning matrix as a whole. The main questions are; how do I determine my company's position in the matrix and what can I do to improve my positioning in the market?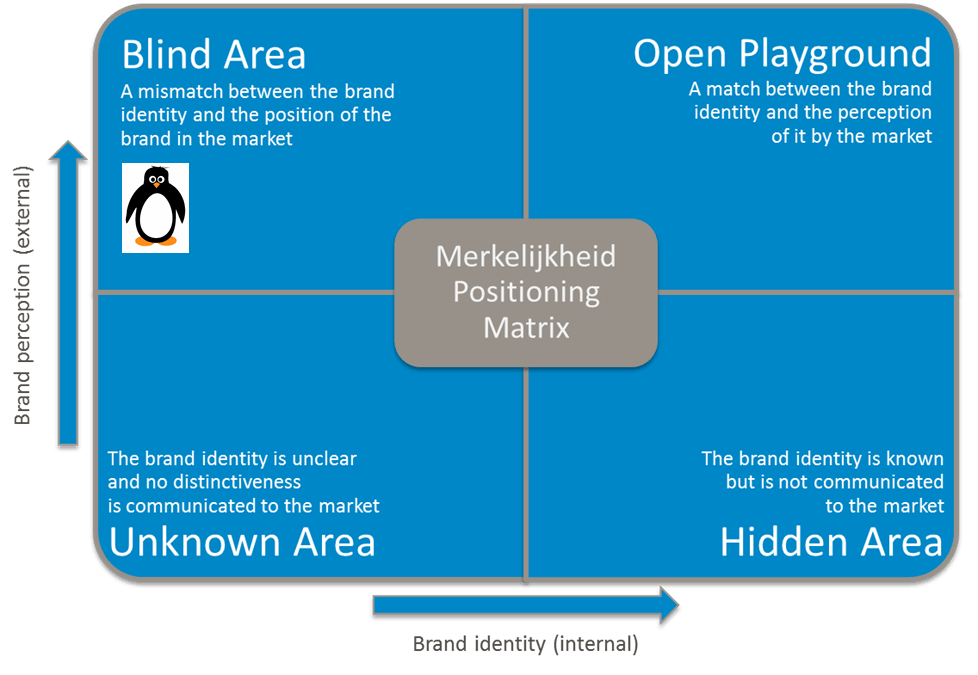 Organizations that want to determine their own position in the positioning matrix first have to determine their brand identity. Our experience shows that to change an organization's identity – which is necessary when the aspired perception is chosen first – often proves to be an insurmountable challenge. The many cultural- and organizational change programs (often taking years to complete with a low success-rate) are testament to this fact. The identity breaks down to the following question: "Who are we and where are we going?" The positioning – and the claim or position that comes with it – is often the result of the ambition and distinguishing capacity that will surface when answering this question. The perception-axis governs the degree in which an organization is able to convey this to the market.
Download het Ebook Positionering
Ontvang direct het Ebook positionering bij inschrijving voor onze nieuwsbrief. Je ontvangt niet alleen het Ebook maar ook een maandelijkse mailing met onze nieuwste publicaties rondom positioneren. Zo ben je in no-time zelf een positioneringsexpert!
Every organization possesses distinguishing capacity and ambition. Many employees, managers or board members are unhappy by the lack of acknowledgement of this from the market; they feel the intention should count for something. The same basic problem occurs when you discuss the saying 'Beauty is in the eye of the beholder' (Margaret Wolfe Hungerford in Molly Bawn, 1878). Benjamin Franklin's writing in Poor Richard's Almanack, 1741, makes the concept more acceptable:
Beauty, like supreme dominion
Is but supported by opinion
The ultimate and only test of success is how much the organization, in the opinion of its customers, embodies the positioning they claim.
Quickly after determining its true identity and the positioning that goes with it, a company develops the following question; now what? Advisors usually don't trouble themselves with this question and rather transfer this to an advertising agency. They do this even though the guarding of the process and understanding the core – of both identity and positioning – is key (and ad agencies generally focus mostly on creativity not on positioning). This is why De Merkelijkheid does not stop after giving non-committal advice but commits itself to the actions that are necessary to communicate the positioning to the market. That's why we answer the question; how do we charge our positioning towards the market, quite regularly. Because every case is unique we'll stick to defining three core elements that are the basis of every powerful positioning.
Creativity – Without creativity it's impossible for an organization to distinguish itself. A remarkable message is necessary to stand out for companies and has to be congruent with the identity of the brand or organization. Positioning, claim and identity should be equally incorporated in this 'message that stands out'. A lot has been written about the creative process, also by us, but we would love to discuss this further with you.
Courage – To be really different of others is often frightening, and fear paralyses. Courage is required of both managers and employees that embrace a remarkable positioning and take the (informed) leap of faith. Every remarkable brand and company has shown courage at least one time in their history through breaking with mediocrity.
Tijd om aan jouw positionering te werken?
In een kosteloos adviesgesprek bepalen we samen de drie belangrijkste kansen om jouw merk eruit te laten springen. Jij gebruikt onze kennis, ervaring en creativiteit en wij laten jou eens kennismaken met Merkelijkheid.
Vinden wij een goede ruil. Jij ook?
Behaviour – "Put your money where your mouth is!" A positioning should be felt in all interactions with a brand or organization. A positioning that is not felt is nothing more than a collection of words and is directly connected to behavior. Basically, the only way to influence perception is by interaction. And like the behavior of employees, a company's website is also part of its behavior. All the behavior together determines if the 'open playground' is in any way applicable.
It's our passion to combine these elements for a perfectly fitting positioning and to communicate that to the market. Everything we do could be broken down to this, and while we could go on for hours we think we've covered enough.