Positioneren
Competitive matrix; a strategic view of marketing and positioning
De Merkelijkheid Competitive matrix allows organisation to evaluate their own positioning and marketing compared to the competition. By reviewing all relevant competitors and place them in the matrix based on both message and behaviour, you are able to objectively judge how remarkable your positioning and communication is. Other than the actual use we also discuss the creation of the matrix and the train of thought supporting both axes. After reading this article you are able to employ the Competitive matrix in deciding on your own strategy.
Our positioningmatrix discusses the effectiveness of marketing efforts by asking the question: "Are you able to strikingly communicate your remarkable positioning to the market?", and thereby explore the tension between identity and perception. (Read our articles on identity or perception) In practice there are only a select few organisations that are satisfied with the answers; but what should they do about it? It's this important question where the Competitive matrix finds it roots; should I change my positioning, or should I communicate differently?
Creation of the competitive matrix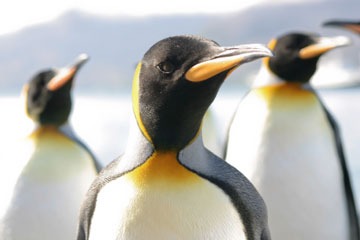 To make this choice we work with the concepts of message and behaviour in the Competitive matrix. The message is about what you say and behaviour is about how you say it, but another way to look at it is, for example, content versus form. To consider both aspects we have linked them to individual axes. Both axes represent ultimate contrasts to enable you to compare the positioning of competitors without subjectively judging their quality. Keep in mind that we can think of various successful companies in any of the quadrants. So a company's position on both axis is not based on merit and will not tell you about the success of an organisation. We will discuss both axes individually:
Behaviour: Conservative vs. progressive | De behaviour-axis locates brands based on their progressiveness in communicating their message. Are they walking the well-known paths or are they open to a unique approach? How innovative or remarkable is their behaviour? This could also mean that the brand is employing a long-forgotten channel or tool. Possible questions:
Are they using various tools? (i.e. events, video, guerrilla-actions or sponsorship) Or are they mainly advertising in magazines and newspapers?
Is the brand employing new or social media?
A conservative brand says: "We've done this for years and we're content!"
A progressive brand says: "We're always curious to see how we can get a first-mover advantage."
Download het Ebook Positionering
Ontvang direct het Ebook positionering bij inschrijving voor onze nieuwsbrief. Je ontvangt niet alleen het Ebook maar ook een maandelijkse mailing met onze nieuwste publicaties rondom positioneren. Zo ben je in no-time zelf een positioneringsexpert!
Message: Ego vs. social | We know from experience that the weighing of ego vs. social is best suited to objectively compare messages. A more ego-oriented brand has a take-it-or-leave-it attitude, while a social brand is only concerned for the wishes and demands of its customers. Possible questions:
Is the brand conversing with its customers or are they just sending?
Are customers influencing products, communications or marketing?
Co-ownership and co-creation are one of the brand's corner stones, or are they focused on maintaining brand ownership and control
Using the competitive matrix
To determine the neutral (0) line of both axes it is necessary to determine the 'common practice' of the market as objectively as possible. Subsequently, the competing brands are placed in relation to that average. The position of your competitors in the matrix is solely decided by the market's perception, nothing else, because you have a (very) limited knowledge of their aspired positioning. You might even add a third value to the matrix (e.g. market share, budget or quality) in order to determine the size of the displayed competitors. That way you can be sure that your most important competitors are prominently featured.
Your final act is placing you brand/organisation in the matrix twice:
The position that's a direct result of your positioning
The positioning corresponding with the market's perception of your brand
Using the Competitive matrix results, as you can see, in a clear view of the market. Giving you insight in how your behaviour, message and positioning are best adjusted to more clearly distinguish yourself from the competition.
We would like to elaborate based on an example: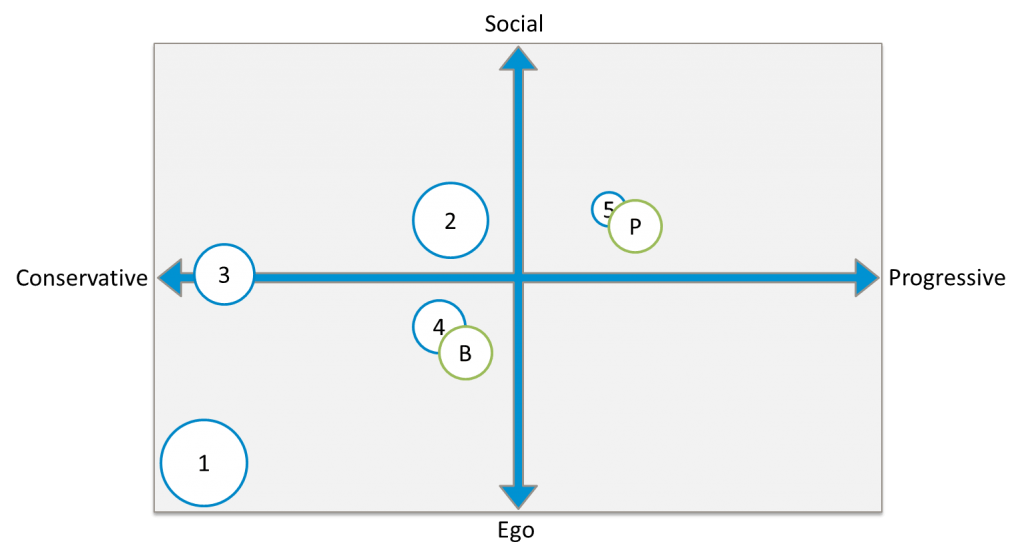 The situation above is comparable to the situation in many industrial and other established markets. The market leader, nr. 1, would prefer to keep the status quo and relies on its own (significant) status and prestige to maintain its market share. Nr. 2 has realised that distinguishing capacity is necessary but is afraid to estrange the tradtitional market, while nr. 3 is (unsuccessfully) trying to copy nr. 1. Nr. 4 is rather satisfied and is mainly servicing its existing (long-term) clients. Nr. 5 is a relatively new entrant to the market and is taking every opportunity to stand out.
The client (green) is most-easily compared to nr. 4 – and the perception of the organisation's behaviour (B) reflects this – but realised that it was traveling into a cul-de-sac. The new positioning (P) should more clearly distinguish them from the (established) competition. While there are many roads to a remarkable result you should realise that a market's perception of a brand is only slowly changed. It's therefor best to employ the gaps in the market to grow and evolve towards a new positioning step-by-step.
In this case, a remarkable direction would be to switch to a much more progressive attitude towards marketing while only changing the message in a gradual way. Only when the employees are comfortable with the new expected behaviour you can elect to change the message you communicate. This keeps you from implementing two huge changes simultaneously, and maintains your organisation's composure.
To also supply you with a more emotional idea as to what the Competitive matrix entails, we have placed some well-known car brands in the matrix: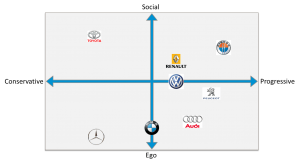 We are aware that the methodology as described above is still quite subjective. It is possible to strongly limit this subjectiveness by determining fixed values for certain questions. For example; in the market used in the first example, nobody uses any social media outside of LinkedIN, a +2 in terms of progressiveness could be set for using both Twitter and Facebook. Or a -2 ego could be a 'take it or leave it'-proposition.
But for many organisations the exercise of ranking the market according to these two axes will be sufficiently enlightening, because you and your organisation are more aware of the market situation than anyone. This matrix just allows you to look at the market with is much objectiveness as possible and reflect on your choices from that perspective.
Download het Ebook Positionering
Ontvang direct het Ebook positionering bij inschrijving voor onze nieuwsbrief. Je ontvangt niet alleen het Ebook maar ook een maandelijkse mailing met onze nieuwste publicaties rondom positioneren. Zo ben je in no-time zelf een positioneringsexpert!
We are very curious to hear what you find and would love to learn about any results you achieve in using the De Merkelijkheid Competitive matrix.